Welcome
Our Links are revised and expanded. Check them out for lots of resources on plants, prairie, natural areas and control of invasives and exotics.
OUR 29th YEAR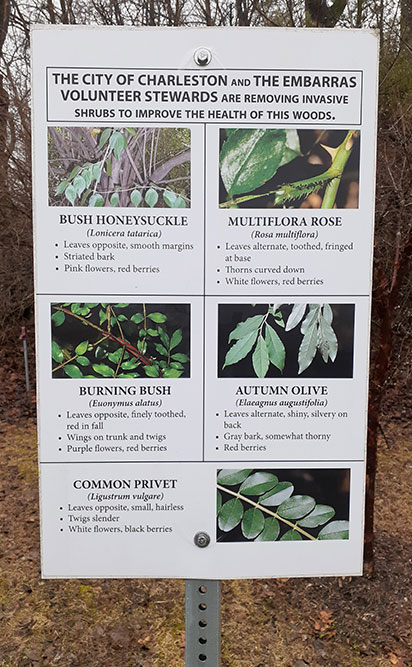 The Embarras Volunteer Stewards began in 1994 to help public and private land owners in their efforts to preserve and restore native prairie and woodland sites. We are people from all walks of life who work under the guidance of biologists. We give about 30 Saturday mornings a year to help in small ways so that Illinois will not lose the rest of its precious natural heritage, of which less than .07% remains to us today. We do invasive species control. Workdays last about two hours and are announced at the "Events" link on this page.
Everyone is welcome at workdays and tours. There are no dues or other obligations. Come as often as you like, to work or just observe and encourage. We learn more on every excursion about our natural surroundings and how to preserve them.The Embarras Volunteer Stewards are affiliated with The Nature Conservancy's Volunteer Stewardship Network. The VSN supports over 70 volunteer groups in Illinois, made up of some 5,000 volunteers who help maintain over 300 natural areas containing prairies, wetlands, savannas and woodlands.
For more information, contact:
Kenton Macy
Email: kemac76@gmail.com
Where we help
Our area includes five counties: Coles, Cumberland, Clark, Douglas, and Moultrie
Burgner Acres Nature Preserve
Coneflower Hill Prairie
Douglas-Hart Nature Center
Fox Ridge State Park
Lafferty Nature Study Center
Lake Charleston Woodlands
Lincoln Prairie Grass Bike Trail
Neoga Prairie Remnant
Rocky Branch Nature Preserve
Walnut Point State Park
Warbler Ridges Conservation Area
Waterworks Hill Prairie

CHECK OUT OUR HERBARIUM AT DOUGLAS-HART