Links
On-line plant databases everyone can use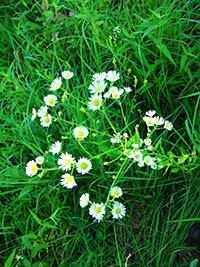 Here are some easy to use, free sources of information about native plants. Check them out for plant ID as well as where to find them and tips for growing them.
"The PLANTS Database." http://plants.usda.gov/. The US Department of Agriculture and other partners have collaborated on this great source for the vascular plants, mosses, liverworts, hornworts and lichens of the US and its territories. You can search by common or scientific name, as well as by taxonomy, growth habit, morphology, physiology, growth requirements, reproductive characteristics and use, and by location down to county level. There is a photograph of each species. Keys are available free in both on-line and download versions.
"Prairie Restoration: A Digital Aid Featuring Seeds, Seedlings, and Fruits." https://castle.eiu.edu/prairie/. Janice Coons. Nancy Coutant, Ken Robertson and Brent Todd of the Eastern Illinois University Department of Biological Sciences are the project leaders for development of this database funded by the Illinois Department of Natural Resources. Illinois tallgrass prairie species are described at all stages of development. There are species lists by common and scientific name, and a glossery.
"Landscaping and Restoration Using Illinois Native Plant Species." https://castle.eiu.edu/n_plants/. Also developed by Janice Coons and Nancy Coutant, this database describes the uses of native plants, the characteristics of individual plants, and tips on growing them.
State Parks, Nature Centers and Government Agencies.
Douglas-Hart Nature Center
Rock Springs Nature Center
Ballard Nature Center
Illinois Department of Natural Resources
Illinois Natural History Survey
INHS Gallery of Illinois Plants
INHS Botany Collection
Illinois Cooperative Extension Service
Midewin National Tallgrass Prairie
USDA Plants Database
US Geological Survey
Illinois State Parks
Illinois Natural Areas
Illinois Invasive Plants
Illinois Prairies
Organizations
Grand Prairie Friends
The Nature Conservancy
Prairie Rivers Alliance
Defenders of Wildlife
North American Bluebird Society
National Audubon Society
Illinois Audubon Society
Sierra Club
Bat Conservation International
Illinois Butterfly Monitoring Network
Illinois Native Plant Society
Virtual Herbarium (Field Museum, Morton Arboretum, Chicago Botanic Garden)
Chicago Wilderness
Urban Butterfly Initiative

Other Useful Sites for Conservation Knowledge
Illinois Plant Info. Network (ILPIN)
Global Invasive Species Database
Threatened and Endangered Species in Illinois
Northern Prairie Wildlife Research Center
Illinois Natural History Survey Publications
Fire Effects Information System
inaturalist